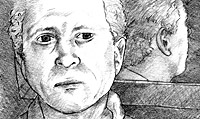 Martin Lemelman
Graphic Artist and Memoirist
Professor of Communication Design
Kutztown University
The child of Holocaust survivors, Martin Lemelman was raised in the back of a Brooklyn candy store. He has been a freelance illustrator since 1976. His client list includes McGraw/Hill, Children's Television Workshop, Scholastic, Parent's Magazine Press, Crayola and the Jewish Publication Society, among others. He has illustrated over 30 children's books and his work has been published in magazines ranging from the New York Times Book Review to Sesame Street Magazine.
Martin is a Professor in the Communication Design Department at Kutztown University. He lives in Allentown, Pennsylvania with his sweet wife, Monica. They are the proud parents of four wonderful sons.